What is Elder Abuse?
TV and Social Media PSAs
As part of our Media Campaign Against Elder Abuse, we have produced a series of Public Service Announcements (PSAs) for TV and Social Media:
Addresses the lack of awareness of about Elder Abuse by the general public. It features actress/director Melanie Mayron.
Addresses the issues of caregiver burnout and emotional abuse. The spot was co-created with the advertising agency DMB&B Los Angeles, and directed by actress/director Melanie Mayron ("thirtysomething") and director Catlin Adams (Beverly Hills, 90210). The spot's distinctive voiceover is Academy Award-winning actress Linda Hunt (CSI Los Angeles). 30 seconds.
Addresses neglect by caregivers. Available in both 30-second and 60-second versions,
Impact PSA's mission is to bring public awareness about ELDER ABUSE. If you are a nonprofit organization specializing in elder abuse, senior issues, senior living, or medical personnel working in geriatric care and can benefit from any of our media campaigns, please contact us at SBerry@ImpactPSA.

How You Can Help
As a nonprofit organization, most of IMPACT PSA's funding must come from donations from individuals, foundation grants, and corporate underwriting.
We invite you to make a tax-deductible donation, securely online or by mail.
Please say "Yes!"
"Elder Abuse is a term referring to any knowing, intentional, or negligent act by a caregiver or any other person that causes harm or a serious risk of harm to a vulnerable adult."
Department of Health and Human Services
U.S. Administration on Aging / National Center on Elder Abuse (NCEA)
Major Types of Elder Abuse
While definitions of Elder Abuse vary because of variations in terms used in Federal and state laws, the lack of a uniform reporting system, and the lack of comprehensive data collection—the most prevalent forms of domestic elder abuse are broadly defined by the NCEA as:


TYPE
DESCRIPTION
EXAMPLES
Physical abuse
Use of physical force against an older adult that may result in bodily injury, physical pain, or impairment.
Striking with an object, hitting, pushing, shoving ...
Sexual abuse
Nonconsensual sexual contact of any kind with an older adult.
Unwanted touching, rape, sodomy, coerced nudity.
Psychological abuse
Includes emotional & verbal abuse
Infliction of anguish, pain, or distress on an older adult through verbal or nonverbal acts.
Verbal assaults, insults, threats, intimidation, humiliation, and harassment.
Financial exploitation
Illegal or improper use of an older adult's funds, property, or assets.
Cashing an older adult's checks without authorization. Forging an older adult's signature. Misusing or stealing an older adult's money or possessions.
Neglect
or Abandonment
Refusal or failure to fulfill any part of a person's obligation or duties to an older adult.
Refusing or failing to provide an older adult with such necessities as food, water, clothing, shelter, personal hygiene, medicine, comfort, personal safety, and other essentials.
Source: Based on a chart by the National Center on Elder Abuse


The Prevalence of Elder Abuse
Elder Abuse is increasing, but it is estimated that for every one case of elder abuse reported to authorities, about five more go unreported.
Because of the lack of comprehensive national data collection, no one knows the precise number of older Americans being abused, neglected, or exploited. However, accumulated evidence and some early studies are revealing the magnitude of the problem.
In 2003, the U.S. government estimated that perhaps 2 million older Americans has experienced Elder Abuse.
A 2011 report estimated that in the past year 14.1 percent of noninstitutionalized older adults had experienced physical, psychological, or sexual abuse; neglect; or financial exploitation. This translates to possibly about 6 million people!
The prevalence of Elder Abuse is likely to begin increasing by millions: As more and more baby boomers reach retirement, elders are becoming an increasing percentage of the population—from about 15% in 2000 to over 25% by 2040.
However, all of these figures may be underestimating incidences of Elder Abuse, because most incidences go unreported, and studies have not yet surveyed all types of abuse and all categories of older adults.
Growth in Percentage of U.S. Elderly Population: 1900 to 2050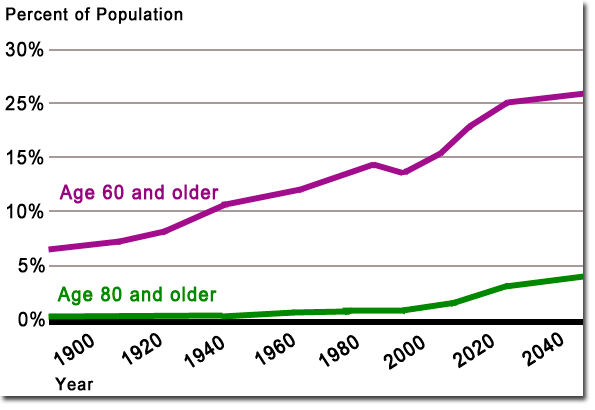 Source: Analysis of U.S. Census Bureau data by Administration on Aging
THE VICTIMS
All elderly people are potential victims of Elder Abuse. While Elder abuse is occurring in many domestic and institutional settings, it is frequently not obvious.
Particularly vulnerable to abuse, neglect and exploitation are elderly and disabled adults who are unable to provide for their daily needs or who are cognitively impaired.
Many victims are reluctant to tell anyone about the abuse because they may not see themselves as being exploited, or are ashamed that family members or caretakers, on whom they depend, have mistreated them. Victims often do not report abuse because they fear the consequences if help is taken away, or fear possible physical or emotional retaliation.